It had been over 15 years since we last painted the exterior of our home. The paint was weathered, worn, and looked dated. It needed curb appeal. And to be honest, I never really loved the last exterior paint color.
Before: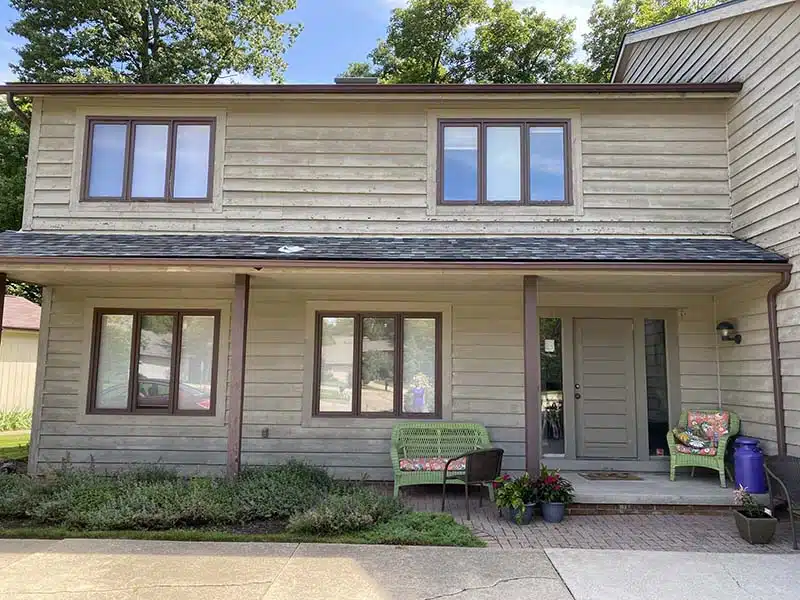 If you are reading this, you are thinking about painting the exterior of your home. I can tell you from experience it is exciting and frightening at the same time. It is a substantial commitment both in time and money.  To help you through the process, here is some practical advice on how to choose an exterior paint color.
Whether painting yourself or hiring a professional to paint, this upfront small investment in time and money will help you make sure you will love your color now and in the future.
Walk your neighborhood
The best way to start your exterior paint project is with a trip around your neighborhood.  As we took our daily walks, we would look at the houses in the neighborhood to see what color combinations we liked and what we didn't like.    This helped us narrow down into the gray family.
Once we had the idea for gray paint colors, it was a trip to multiple paints and home improvement stores to find paint chips in the tone and family we liked.
We looked at the chips outside in daylight. This allowed us to quickly eliminate paint colors we did not like so we could focus on the ones we did like.
The proper way to test paint colors.
We knew we wanted to be in the gray family. But grays always pose a challenge. Grays are known to shift. A gray can easily look blue, purple, or green. It is all dependent on the lighting, and the colorants used to make that color. That is why it is so important to test your exterior paint color with a peel and stick sample before you paint.
One of the critical things about testing paint colors, whether it is an interior or exterior project, is to test the sheen, brand, and type of paint you are planning on using.   We started testing with paints but quickly realized we needed to test in a solid color stain since that is what we were using to paint.  After testing multiple colors with paint swatches, we narrowed it down to two gray paints. We made sure we tested the paint colors on the second floor and the first floor as well as on different sides of the house.  We even put two swatches together to make sure we could view our paint on a larger area.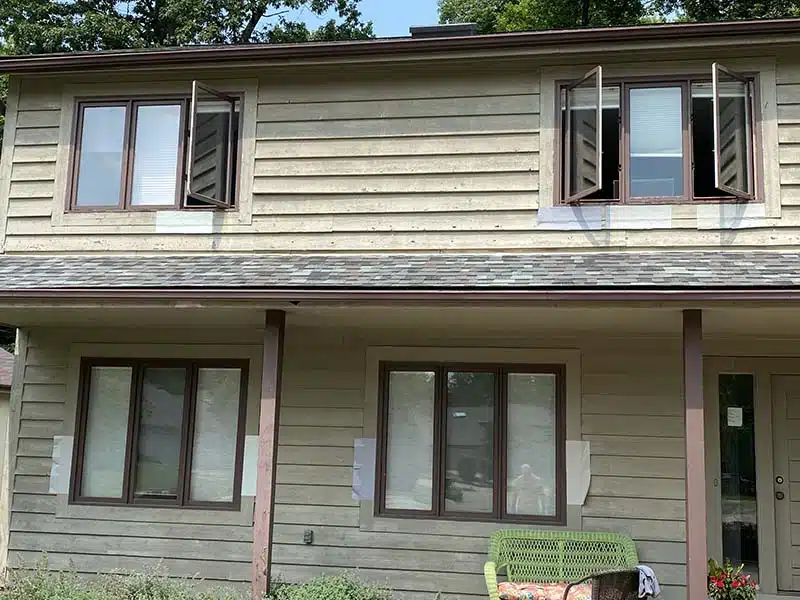 Have fun with the color of the front door
This is where the earlier research came into play. The body color of the house is Jubilee (SW6248). On our walks, we saw color combinations we liked that we wanted to replicate. Also, many of the paint brands will have exterior color combination recommendations that will show you what colors work well together.
In the end, we went with a simple white trim (Superwhite SW 6995) to keep it clean but added excitement with a purple door (Fabulous Grape SW 6293). And if we ever get tired of the purple, it is an easy project to update and change the color of the front door.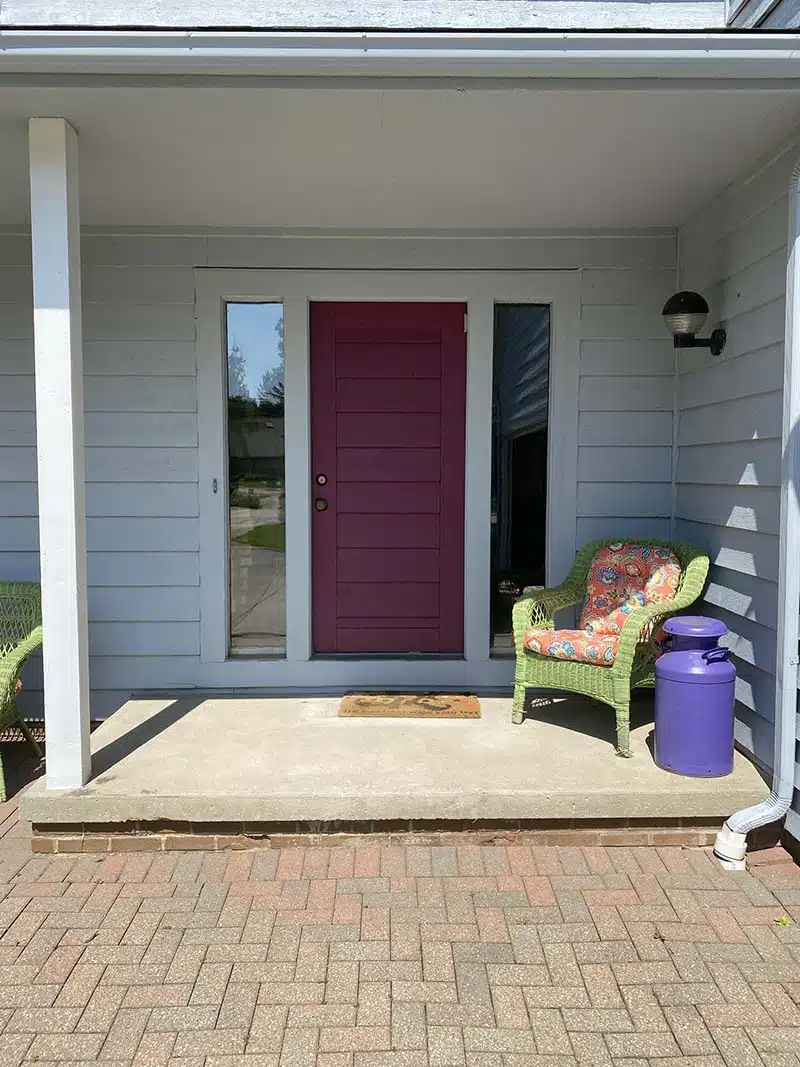 Always use a SureSwatch Peel & Stick Paint Swatch
As the inventor of SureSwatch, I always use a SureSwatch to find our perfect color. Here are a few reasons why you should use SureSwatch for your next exterior paint project.
It is better than painting directly on the wall.
With a SureSwatch, you are not stuck with unsightly paint spots all over your house. And no matter how good you are at priming, if you tested dark colors and are now going with light colors, there is a good chance those test spots will show through.
How you view a color is influenced by the other colors surrounding it. So, it is especially important to compare your color choices but to always view your final choice on its own. SureSwatch is an excellent product but remembers not to use it on cracked or peeling paint surfaces, wallpaper, unpainted drywall, or freshly painted surfaces.
View in multiple locations.
Most people will only sample on one wall, but the best way to see your paint color is in different lights and on different walls
Successful Update
The best compliment is when your neighbors notice the improvement. For weeks after we painted the exterior, we received so many compliments on our color combinations and how it transformed our house.
About the Author
Always a problem solver, Jamie Peltz looks at common everyday problems from a different perspective. After 17 years of working for a corporation, Jamie found herself unemployed. She saw this as an opportunity to follow her dream to become an entrepreneur.
Jamie is a graduate of The Ohio State University and received her MBA from John Carroll University. She also participated in the Goldman Sachs 10,000 Small Business Program and is currently Treasurer for NAWBO- Cleveland (National Association of Women Business Owners). In addition to her work, she enjoys hiking and spending time with her family.