Every now and then, you start to think that maybe it's time for a new color on your walls. Perhaps you have just moved into your new home, or you just feel like a change. Settling on the right color can take some time, especially because you don't want to have to repaint again too soon. You want to choose a shade that you enjoy, that creates the right atmosphere, and that works with the style of the room. But with so many options, how can you choose which paint colors are right for your interior rooms?
Where to start
Just knowing where to start can be tricky when you're looking for the right paint color. There are so many colors and shades; how are you supposed to decide where to begin? You might be drawn to a certain color immediately, but you could equally be unsure about exactly what it is that you want.
Fortunately, there's plenty of inspiration out there if you're looking for the perfect paint color. You don't have to limit yourself to interior design inspiration or paint swatches, either. You might get inspired by a color that you see anywhere, whether it's in nature or you just spot it on a random object.
Of course, you might take your inspiration from your home too. You could look at your existing furniture and decor to decide on a color that will go with what's already there.
What to consider
You can think about plenty of different factors when you're choosing paint colors for your interior spaces. Some things will make a difference in how the color looks, including at different times of the day or even in different seasons. So what should you be taking into account when you're trying to find the perfect hue to complete your home?
Light
Firstly, both natural and artificial light will make a big difference to any color that you choose. It will affect the appearance of the color throughout the day and at various times of the year too. Take note of how much natural light you get in the room and whether it's direct or indirect sunlight. Sunlight can affect the shade that you really see, making it lighter or darker or bringing out certain hues.
As for artificial lighting, this also matters when you're choosing a color. Artificial lighting can have a broad range of appearances, being warmer or colder, brighter or dimmer, and more. These can all affect what a paint color really looks like when it's on the wall, so it's important to test out colors in different lighting conditions.
Furniture
Your furniture is another important factor to think about when you're choosing a paint color. Creating a color scheme that matches the furniture you already have obviously makes sense, unless you're planning on getting new furniture. This can be easy to do if your furniture is largely in neutral colors but might become a little trickier if you need to match your paint to brighter shades.
Your furniture can be a great source of inspiration. If you pick a few colors from around the room, it can help you to narrow down what color you want to go for.
How to make the most of color swatches
Testing out the colors you're considering is essential when you chose paint colors. This is where color swatches come in, making it easy to compare the colors you've shortlisted. You can put them side-by-side and take a closer look at which one could be the right color for your room.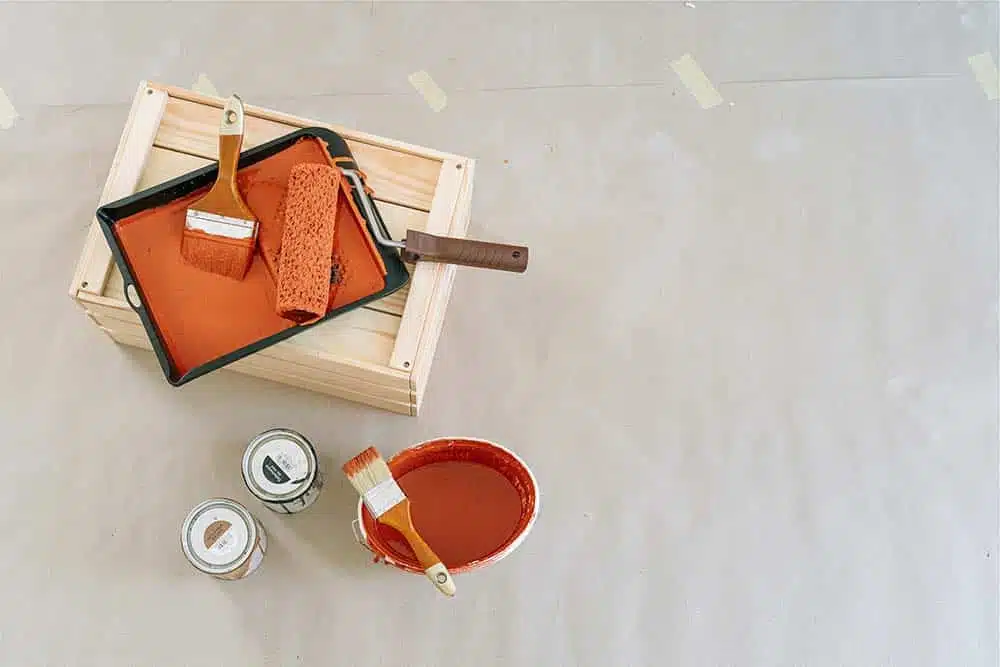 The advantage of SureSwatch
Color swatches or paint chips are a good tool for choosing paint colors. But if you really want to know which paint color is going to look best, you need to actually see it on the wall. Traditionally, this would involve painting a few patches of your short-listed colors on the wall to get an idea of what they look like. But this can cause a few problems.
You'll only be able to see what the paint looks like on that specific patch of the wall. You will also have multiple colors next to each other, which can make it hard to picture just one color on its own. And when it comes to painting your chosen color over the whole wall, you can find that your test patches aren't as hidden as you expect them to be.
SureSwatch eliminates these issues with peel-and-stick paint samples. You can peel them off, view them on different walls, and easily eliminate the colors you've ruled out. You won't be left with any phantom squares.
SureSwatch makes it simple to find the perfect paint color for your interiors, without any hassle.