Testing paint colors is the only way to know whether the color is right for your home or not.  Painting a room with a new color is a huge commitment, both in time and money.   But it's a wonderful way to take a room from blah to beautiful.  After spending so much time finding the perfect color you owe it to yourself to take the final step and try that color on your wall. Now you will know whether it's Peaceful Garden for you or Studio Green.
It's impossible to choose a color based on a tiny paper sample that is printed with ink.  So here are some mistakes to avoid when sampling colors.  The goal is to achieve the look you have been striving for.
You Need a Nice-Sized Sample to Get a Feel for the Color
When you're painting on a sample color, we tend to paint small spots.   After all, this may not be the color you end up choosing in the end. Because of this, many people stay conservative, testing paint colors in teeny tiny squares on the wall. The problem with this is that it's hard to get a good feel for a color when you're only seeing it in a small area. Small squares don't do a good job of representing what a color will look like after you paint an entire wall or the whole room.
It's Easy to Wrongly Judge Paint Color When It's Still Wet
Another mistake people make when testing paint colors is painting a sample square on the wall and giving the color a thumbs up or thumbs down before it's dry. Many colors tend to look much darker when they're wet, which means it's too soon to mark that selection off of the list.
Looking at Different Paint Samples at Once Will Play Tricks on Your Eyes
Once you get all of your paint sample squares slathered on the wall, you'll be facing a kaleidoscope of colors that make it harder, rather than easier, to choose one. The tones of one color can impair your ability to see what a different one will look like by itself. Specific colors can even change the look of others entirely when they're placed side by side. This is another problem that arises when testing paint colors by painting them directly on the wall.
One Coat Won't Do the Trick
Another issue? In order to see what a color will truly look like, you're going to need more than one coat. Most people are understandably hesitant to take the time necessary to paint on a few different coats of sample paint, which means that they're making a decision based on a thinner, less vibrant version of what the finished product will look like. If you do take the time to layer your sample paint, however, you'll run into the next problem on our list.
You're Creating Extra Work for Yourself
When you put two or three layers of sample paint in a square on the wall, you've created a buildup that's going to be noticeable even after you paint over it. Because of this, you're going to need to sand that area down before priming and painting it with the final color.
Testing Paint Colors With Sure Swatch
Instead of testing paint colors by brushing on sample squares that are too small, don't have enough coats to represent the color, and will have to be sanded or painted over later, give SureSwatch a try!  SureSwatch is the one product that eliminates each of these problems.  It is a 9″ x 12 " paintable clear film with a low tack adhesive.  Colors can easily be viewed together or separately to make sure you get the color you wanted. Using them is easy; simply apply two coats of sample paint (letting them dry in between) before applying each SureSwatch to the wall. Each SureSwatch gives you a sizable sample, but if you want to see what a color will look like in a larger area, simply paint two or more SureSwatch temporary paint swatches and place them on the wall together.
Best of all? They peel off easily with no sanding or covering required. Painting and testing paint colors is a huge project, but SureSwatch can make it a much easier and a happier experience for all. Find out everything you need to know about this incredible project here.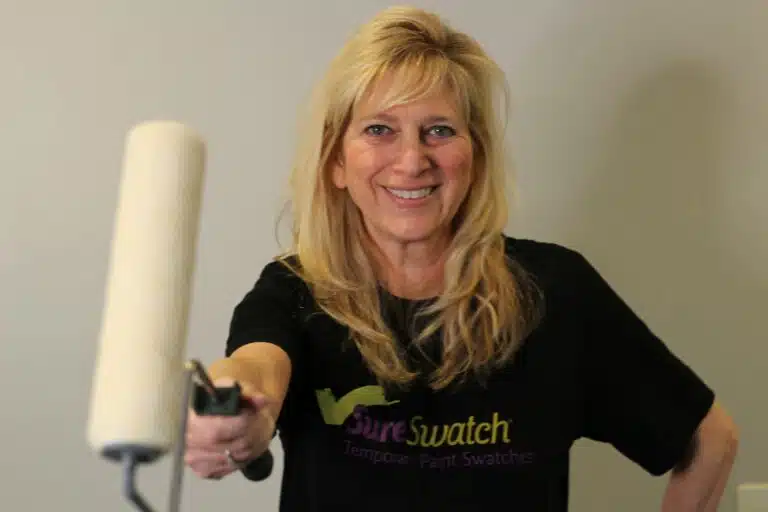 About the Author
Always a problem solver, Jamie Peltz looks at common everyday problems from a different perspective. After 17 years of working for a corporation, Jamie found herself unemployed. She saw this as an opportunity to follow her dream to become an entrepreneur. Over the years she and the team have received multiple patents and have been able to commercialize a few of their inventions.
Jamie is a graduate of The Ohio State University and received her MBA from John Carroll University. She also participated in the Goldman Sachs 10,000 Small Business Program and is currently Treasurer for NAWBO- Cleveland (National Association of Women Business Owners). In addition to her work, she enjoys hiking and spending time with her family.