SureSwatch®
Peel-and-Stick Paint Samples
Choose a Paint Color You Love with SureSwatch®
You feel the excitement, you decided to start a new paint project.
Learn how using real paint samples with our temporary paint swatches make the project go smoother. 
Maybe it is a bathroom that needs some updating or maybe it is a bedroom to be updated from a toddler's bedroom to a teenager's bedroom or maybe a kitchen that needs to be remodeled?  Whatever room it is, paint plays a major role in how you feel about that room.
But we know finding the right paint color, can easily turn from excitement into anxiety — especially if you have ever had a past painting project that resulted in disappointment.  Maybe the paint sample turned out to be not even close to what you had in mind.  Or the final color was too light, or the color was too dark.  Or you did not even think about trying the color on the wall because you thought the color would be just right.  As a result you had to live with a color you did not like.
We know first-hand what it is like to live with a color you do not love.  For that reason we want to make sure your vision comes to life how you intended, bringing you joy and happiness.
From A Thousand Blues to
Three Possibilities
SureSwatch® Paint Swatches were created with paint sampling in mind.   
What we found is choosing the right paint color is a process.  First of all, we go to the store and pick a thousand blue paint chips (or the color of your choice) that we might like.  We take them home and probably eliminate most.  It is like dating, we are looking for the perfect match.  
Too light, too dark, too much green, too much yellow.  Oh, this one might be just right!
So our thousand blues became 3 – 5 great paint choices. Consequently, indecision will set in and anxiety begins to increase! How do you know if this little tiny paint chip (that is not even made from real paint) is going to work in your home?  Did you know that a paint chip is made from ink? Therefore the only way to know for sure is to create paint samples for your paint choices.
Go From 'I Don't Know' to
'I Love That Paint Color!'
Creating paint samples of your final color choices is easy with SureSwatch® peel-and-stick paint samples. 
SureSwatch® is a paintable clear film used to create removable paint swatches to CONFIRM or REJECT your paint colors. 
Above all, it is easy to use so there are no paint surprises.
So, what makes SureSwatch® Paint Swatches the right product to use?
Temporary – The low tack adhesive makes it easy to remove the SureSwatch you do not like and view just the SureSwatch® you do like. Furthermore, view your SureSwatch® on multiple walls at the same time.
Customizable – SureSwatch® Paint Swatches are designed to work with any brand, any color, and any sheen so you can create the perfect paint sample.  Testing in the right sheen is critical.  The gloss of the sheen will make the paint color look different.
Real Paint Samples – After all, you are putting real paint on the wall so you need to view the test paint color in your lighting and with your décor.
Film – The flexible film looks like paint on the wall.
Removable – SureSwatch® peel-and-stick paint samples peels cleanly off the wall, leaving no marks or residue. The wall is clean and ready to paint.  Hence if you paint your samples directly on the wall – prepping, priming and sanding are all required as an extra step.
Clear – The frosted clear film shows the effect of the underlying wall color. This added feature makes using a SureSwatch® as accurate as painting the wall.  Stay away from testing paint colors on white cardboard.  You might like the paint color on the white cardboard but unless you are painting a white wall the white cardboard will not provide the desired accuracy.
Just paint SureSwatch® Paint Swatches and apply the painted swatch to the wall. SureSwatch® provides a removable paint swatch of the real paint color on a flexible, clear material.  
Paint, Peel, View & Remove
The SureSwatch® Primer Decider Scale shows you clearly and simply if your new paint color will need a primer coat to cover your existing wall color. If a primer is needed, the Primer Decider even shows you what specific primer shade will hide your old color and bring out the best in your new color visualization. Just another way SureSwatch ensures you choose the right color — the first time, every time.
We are often asked where do I start?  With a recent project, we decided to update our daughter's bedroom into a guest bedroom.  The best place to start is to find ideas you like. Pinterest, HGTV & Houzz are all great places to look for inspiration.  We knew we needed a new comforter, so we looked at retail websites for a comforter that we liked. Questions you might be asking at this point are what is my style?  Do I like a contemporary look or am I more a traditionalist?  What colors am I moving towards?  Are there pieces I currently own that I am keeping or am I looking to buy all new items.  A bedroom update can be as simple as a new comforter and paint.  
I find at this point it is best to keep either a Pinterest board or a real-life inspiration board.  You will quickly see where your comfort zone is and what looks will make you happy.
Do not let this step be overwhelming.  I find if you set a time limit, maybe an hour a day, you will save yourself countless hours of looking at ideas that are not right for you.   Ne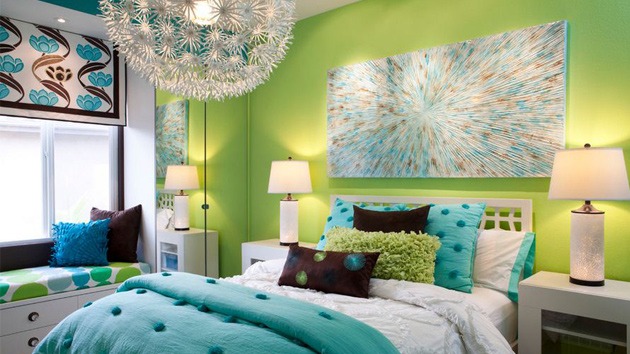 Our focal point became the comforter.  For a bedroom, a comforter is usually an easy place to start.   The colors of a comforter are perfect for building a color scheme.   For our color scheme, we used a color wheel.  A color wheel is a great tool for finding colors.  With a yellow and gray comforter, we chose the color directly across from yellow on the color wheel, purple.  The purple and yellow combination created a vibrant yet comfortable space. But we were sure to use a SureSwatch® to create our paint samples before finalizing the color selection.
SureSwatch® was created by entrepreneur, Jamie Peltz after watching people struggle with choosing the right paint colors.  She worked with friends and colleagues to create and commercialize SureSwatch®.   
It has been an amazing journey to come up with the idea, figure out how to make it, and sell it to retailers.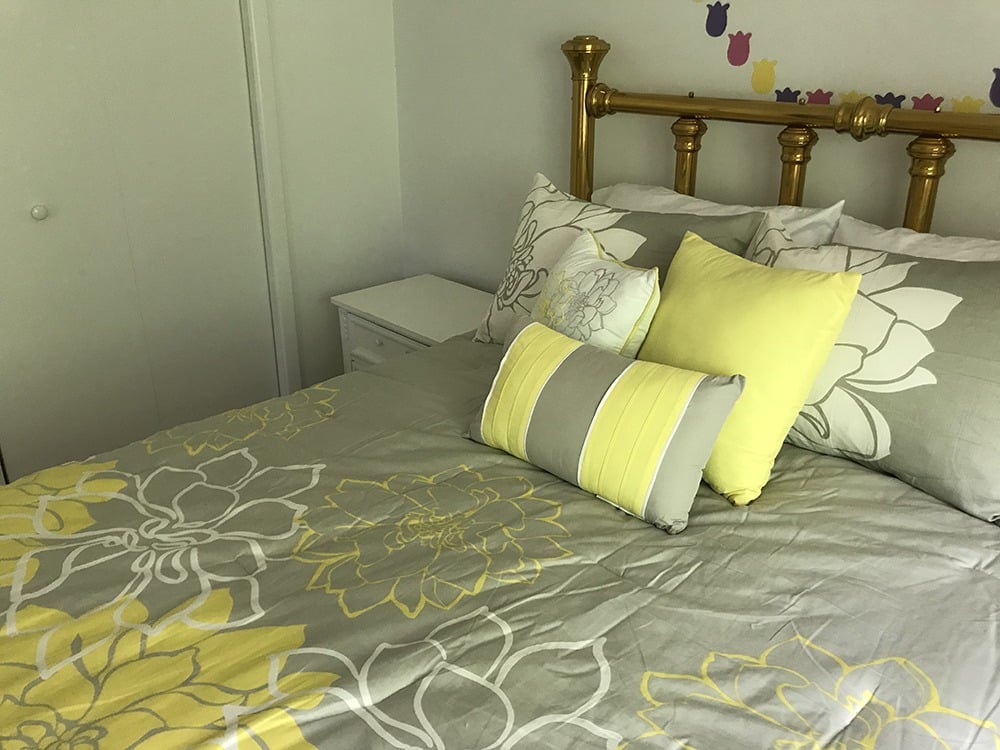 SureSwatch®...Saving You From Bad Color Decisions!
Want more great ideas for painting with SureSwatch Temporary Paint Swatches? Check out our painting tips for ideas and inspiration!