Spring is in the air, which means one thing — it's time for your annual spring cleaning! As you get ready to drag clutter out of closets and put away winter clothing and bedding, stop for a moment and consider: could your home benefit from adding a paint project to this year's spring cleaning list? Paint is an easy solution for a micro upgrade on a budget.
While wiping down walls can clean them up, nothing says springtime like adding a whole new fresh coat of paint. Here are four paint project ideas to make your home feel like new this spring.
Spring Clean with Paint
1. Spring Cleaning: Add a brand-new color.
Maybe you want a micro upgrade or you are ready for the ultimate DIY home transformation, either way just choose a room and get started. Spring is a great time to try a bright and fresh color. Out with the grays and in with a yellow. Or take your white bathroom walls from blah to spa by painting it in a natural water blue or light green color.
A painting project that involves choosing a brand-new color can feel intimidating. And those tiny paint chip swatches don't do a good job of letting you know what the color will actually look like once it's up on your wall. This is why many homeowners use products like SureSwatch Color Swatches to test out new paint colors. SureSwatch lets you find the right color by eliminating the wrong ones. Test out one color on different walls, in various rooms.
2. Repair dents and dings in high-traffic areas for the ultimate Spring Cleaning hack.
We all have that one hallway, corner, or kitchen wall that gets brutalized during everyday family life. Maybe it's the corner in the entryway where your kids toss all of their shoes and sports equipment. Or possibly it's the upstairs hallway wall that's scuffed up from all the back-and-forth traffic it endures every day.
You'd be surprised at how taking time to repair and paint can give your home a new look. All you need is a putty knife, 120-grit sandpaper, primer, drywall compound, or putty and paint that matches the original wall color. Make sure you use the same type of paintbrush that was used to paint it the first time around.
Clean the damaged area, taking care to remove any loose bits and pieces. Allow the area to dry thoroughly then sand the area and apply primer to seal it. Next, apply the drywall compound or putty into the dent or hole. Make sure to spread it out a bit around the damaged area so that it will better blend in with the surrounding wall. Sand it smooth after the putty dries. Finally, apply the paint to make the area as good as new, and check it off your spring cleaning list!
3. Freshen up old paint with a new coat.
Finally, brighten things up while keeping them the same with this spring cleaning idea. Maybe you're in love with the color of your kitchen, and perhaps it doesn't have any major dents or damage. Still, paint fades as it ages, and the rooms in your house may benefit from a fresh coat of paint. Even if you aren't prepared to change colors entirely or don't need to pull out the putty knife and sandpaper, don't discount the transformation that a fresh paint job can bring.
In some cases, you may have difficulty finding your old color — especially if it's been a long time since the room was first painted. If this happens, use small sample cans of similar shades, paint them onto SureSwatches, and place them around the room. This will help you pick the color that best matches the one you've loved for years … and will continue to enjoy for years to come.
4. Upgrade the front door with a new look
A welcome addition to spring cleaning is a brightly painted front door. This is an area of the home where you can have fun and create some seasonality. A few accessories and a coat of paint will create the perfect look for any home.
Want more great ideas for your next paint project? Check out our painting tips for ideas and inspiration!
Find SureSwatch at Home Depot, and Ace Hardware.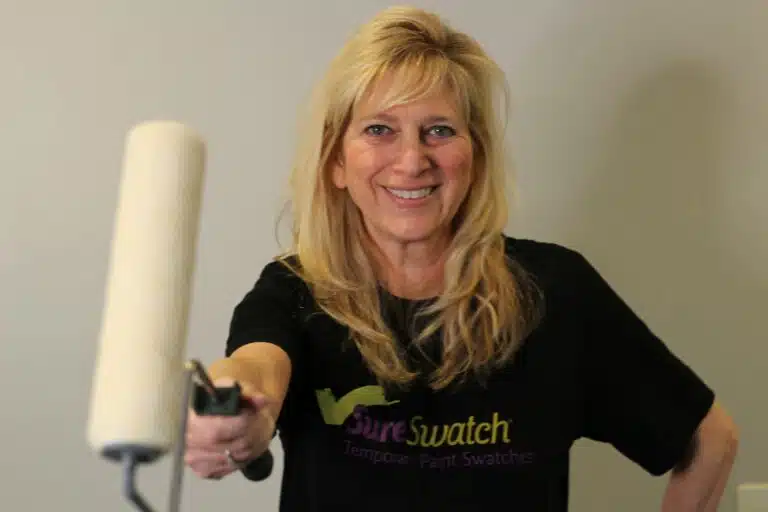 About the Author
Always a problem solver, Jamie Peltz looks at common everyday problems from a different perspective. After 17 years of working for a corporation, Jamie found herself unemployed. She saw this as an opportunity to follow her dream to become an entrepreneur. Over the years she and the team have received multiple patents and have been able to commercialize a few of their inventions.
Jamie is a graduate of The Ohio State University and received her MBA from John Carroll University. She also participated in the Goldman Sachs 10,000 Small Business Program and is currently Treasurer for NAWBO- Cleveland (National Association of Women Business Owners). In addition to her work, she enjoys hiking and spending time with her family.