Living Room Paint Colors
As you embark on creating your dream living room, you may find yourself contemplating living room colors. With the beauty of hardwood floors and ceiling beams already in place, you have the opportunity to enhance the space further with the right color combinations. To ensure your living room evokes happiness, consider the following tips:
You consult the top decorating guru with which you're acquainted for ideas. Today's Houzz favorite colors tend toward grays.  A gray shade closely resembling pewter is especially effective. The trim, windows and doors, moldings, and baseboards are without fail painted white, which has the effect of making the grays recede into the background. Living rooms done in grays can always use accessories and artwork incorporating pops of bright color to lead the eye around the room.
Some design rules are flexible, others are not really made to be broken. When it comes to choosing paint colors for living rooms, there are things you should and should not do to make sure you do not spin the color wheel the wrong way. Too many people focus only on how to choose the right colors, it can be equally as beneficial to know how to avoid picking the wrong ones.
Avoid These Mistakes With Living Room Paint Colors
1. Plan the Room First
Before choosing paint colors, it's essential to plan the room's overall design. Take into account the existing furniture, fabrics, and decor in the space. The paint color you select should complement and balance these elements, creating a cohesive and harmonious environment.
2. Balance Bright Colors
While bright colors can be vibrant and energetic, it's crucial to strike a balance in your living room. If you opt for bold and vibrant hues on the walls, ensure that the other items in the room, such as furniture and accessories, are in neutral tones. This will prevent the space from feeling overwhelming and allow the focus to be on the desired elements.
3. Consider the Entire Home
Although you are selecting colors specifically for the living room, it's important to consider the overall color scheme of your home. Aim for a cohesive flow from one room to another by choosing colors that complement the rest of the house. This will create a harmonious and visually pleasing transition throughout your home.
4. Color Psychology for Living Rooms
Next to the kitchen and bathroom, your family probably spends the greatest amount of time in the living room. It's also generally the first room that guests see when they arrive, as well as the place most people typically entertain. This makes it one of the most important rooms in the house. It also means that choosing paint colors for living rooms is among the most stress-inducing tasks for do-it-yourselfers. If you've found yourself getting uptight and tossing tiny paint swatch samples around, take a deep breath, relax, and keep reading. Our tips will help guide you through the paint selection process.
Understanding color psychology can greatly influence the atmosphere and emotions in your living room. Different colors evoke different feelings. For instance, blue elicits calmness and serenity, while yellow brings warmth and happiness. Research color psychology to guide you in selecting paint colors that align with the mood and ambiance you want to create in your living room.
5. Experiment with Different Colors
If your living room lacks natural light, selecting the right colors can help brighten up the space. Consider using light and airy colors like butter yellow or ivory to create a sense of brightness and openness. Alternatively, you can draw inspiration from the largest pattern in the room, such as the upholstery on your couch, and choose a complementary color from it. This approach ensures a cohesive and visually appealing result.
6. Test Colors with SureSwatch
To alleviate the anxiety of choosing paint colors, utilize tools like SureSwatch. Paint a SureSwatch sample, let it dry, and stick it on one of your living room walls. This allows you to test different colors in various areas of the room and observe how they interact with different angles and aspects of your decor. It provides a visual representation of how the colors will look before committing to painting the entire space.
7. Consider Adding an Accent Wall
If you want to add visual interest and a touch of boldness to your living room, consider incorporating an accent wall. Choose a second color that you adore and that complements the main hue of your living room. An accent wall can be the wall that naturally draws your eye when entering the room, such as the one behind your television or around a fireplace. It can also highlight unique architectural elements, such as a mantelpiece or brick inlay.
By following these guidelines and utilizing tools like SureSwatch, selecting the perfect color combinations for your living room can be an enjoyable and fulfilling process. Remember, repainting is a transformative and affordable way to create a space that brings you happiness and reflects your personal style.
For more tips on choosing paint colors for living rooms, check out our blog!  SureSwatch is available nationwide at Ace Hardware and Home Depot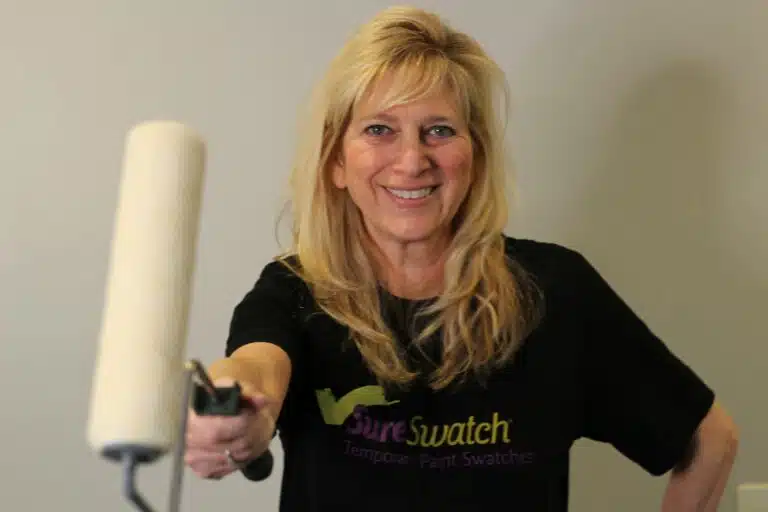 About the Author
Always a problem solver, Jamie Peltz looks at common everyday problems from a different perspective. After 17 years of working for a corporation, Jamie found herself unemployed. She saw this as an opportunity to follow her dream to become an entrepreneur. Over the years she and the team have received multiple patents and have been able to commercialize a few of their inventions.
Jamie is a graduate of The Ohio State University and received her MBA from John Carroll University. She also participated in the Goldman Sachs 10,000 Small Business Program and is currently Treasurer for NAWBO- Cleveland (National Association of Women Business Owners). In addition to her work, she enjoys hiking and spending time with her family.