Store Locator
Find SureSwatch® At a Retail Store Near You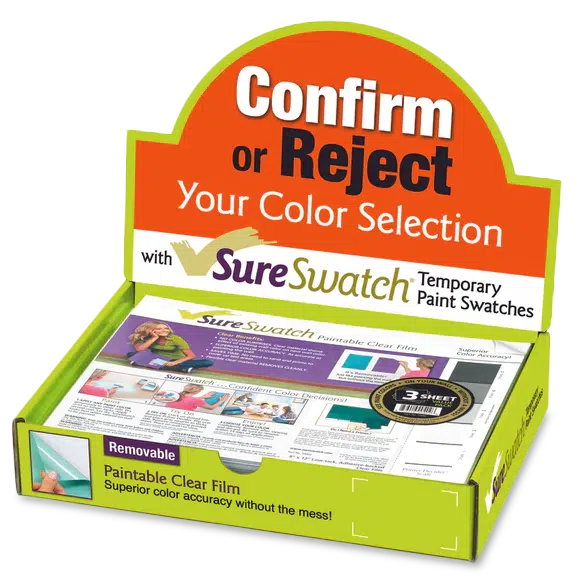 Where to Buy
We make it easy to find your perfect paint color and where to buy SureSwatch Peel and Stick Paint Samples.
SureSwatch takes accuracy seriously. SureSwatch is designed as a clear film.  The clear film ensures the accuracy of your final paint color since it accounts for the color of the existing wall. Since you buy the paint sample and the SureSwatch you will be sampling in your chosen sheen as well as your chosen brand. With a paint sample and SureSwatch sheets, it is easy to paint multiple sheets and view your paint color on multiple walls at the same time.
We are all about saving time, but we know when you are finally picking your paint colors you want to get it done now and not wait on delivery. SureSwatch is conveniently available at 1,000's retailers nationwide.
So whether the color is for your home or you are looking to sell your home, we have you covered. Just use our store locator and find a retailer near you.
SureSwatch Shape
Why does SureSwatch come in a 3-pack?  Most people like to sample 3 colors, light, medium, and dark color.  This provides an easy comparison for finding your perfect color so that you can compare and contrast your color choices.   A SureSwatch provides for easy removability so that you can compare but at the same time, you can also see your favorite color alone.  Most people do not realize that when two colors are next to each other it will influence how you see that color.  So compare your paint swatches with each other but always look at your final color alone.
The rectangular shape of the SureSwatch was purposely chosen since rectangles are more pleasing to the human eye.  So when you are looking for paint color ideas know that a SureSwatch is the perfect shape for viewing your paint colors.
Use our store locator to find where to buy your SureSwatch.