Paint A Room Like a Pro
Should I paint the wall or trim first? The truth is, there's no right answer, but here are some reasons why someone might choose to paint one first over the other.  Most professional painters start with the trim, then the ceiling, and finally the walls.  But paint any way that makes you happy since there is no wrong answer. When deciding where to start the colors you are using should play into the decision.  Another thing to consider is if you are duplicating your work instead of simplifying it.
Paint Wall or Trim First
Most people choose to paint trim a light and neutral color, making it easier to cover up if it gets on the wall if it splatters while painting the trim.  Also, if you start with the trim you avoid taping the trim.  Taping the trim is more difficult than taping a wall.
On the flip side to the trim versus wall question, typically, walls are painted with a flat or satin finish while the trim is painted with a semi or high gloss. Higher gloss paint covers flat finishes more easily than the opposite which makes it easier to cover splatters on baseboards and trim.
Whether you decide to paint the wall or trim first, if you're painting the ceiling, always paint the ceiling before the rest.
Whether it is a change of color or a complete remodel knowing how to paint will make for a smoother project.   Painting is one of those projects where you can see the immediate impact of your effort, so find your color and paint away.
Trim Tricks
Painting trim can take a little more finesse. When painting woodwork, align your paint strokes with the grain. If you choose to paint the trim first you do not need to use painter's tape for the wall since that will be covered with paint when you paint the wall. Use long strokes when painting trim, baseboards, or crown molding, and be sure to wait 24 hours after painting before taping. Prevent overloading of the brush by dipping the brush only halfway into the paint.
If you are painting a baseboard against a carpet you have a few options to improve your success. There are three options depending on your carpet you might be able to lift the carpet off the tack strip, a carpet shield to protect the carpeting, or if you are able to remove the baseboard, paint, and later re-install
Tips for Painting the Wall
Before starting clean your walls. Kitchens and bathrooms will usually have a build-up of grease and sprays that will stop the paint from adhering properly. When using cleaners be sure to follow the instructions and wear gloves and eye protection.
From personal experience, I know how fuzzies can find their way into the wet paint destroying that perfect look. Be sure to buy good quality rollers. But before painting wrap your hand in painter's tape and pat down the roller with the sticky side of the tape.
After finishing painting you are not done until you remove the tape. Wait at least 24 hours before removing the tape, using a box cutter knife slice through the film between the wall and the tape and pull gently at a 45-degree angle.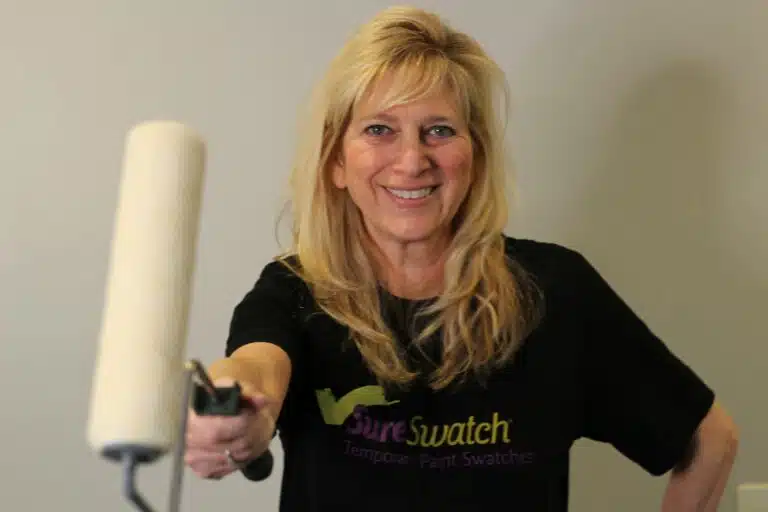 About the Author
Always a problem solver, Jamie Peltz looks at common everyday problems from a different perspective. After 17 years of working for a corporation, Jamie found herself unemployed. She saw this as an opportunity to follow her dream to become an entrepreneur. Over the years she and the team have received multiple patents and have been able to commercialize a few of their inventions.
Jamie is a graduate of The Ohio State University and received her MBA from John Carroll University. She also participated in the Goldman Sachs 10,000 Small Business Program and is currently Treasurer for NAWBO- Cleveland (National Association of Women Business Owners). In addition to her work, she enjoys hiking and spending time with her family.