Painting your room is a common go-to for home improvements. It's a DIY way to spruce up your area that is a relatively low-cost and low-time commitment that can have a huge impact on your home's value. But, before you go coating your walls in color, you should be applying a primer. Choosing the right primer (and knowing how to paint primer) will greatly improve your painting experience. Read on to learn exactly how to choose a primer paint that will best suit your project.
Why Use Primer Paint?
Now's about the time where you may be thinking primer just feels like another step; why spend the extra time and money? The first big secret is priming a wall doesn't necessarily mean extra time and money. When you choose a primer, your painting will actually require fewer coats, which means saving money on costly paint cans. Primer also makes your paint last longer, has a truer color, and creates a smooth base for your painting.
Longer Lasting Paint
When you go to paint a room, chances are you don't plan on repainting that area again in the near future. Primer helps you do just that. It protects your wall, and the paint while preventing cracking and peeling. Choose a primer that will also extend the life of your paint and save you from doing wall repairs down the road.
Use a Primer for a Truer Color
Primer works wonders for your paint color. Why do you ask? It prevents any previous paint coloration from seeping through. This is particularly helpful when you are attempting to cover up a darker color. When you layer any two colored paints, they will mix to a degree; primer prevents that. It allows you to start with a blank canvas and provides bolder, truer colors to the initial paint chip.
Although primer gets you closer to the paint chip color, you still shouldn't expect the paint to be an exact match. Paint chips are made from ink, whereas paint is made from pigments. Although they should be the same color, in theory, they end up looking different because of how they are made. Think about when you see a color on your screen and how it can look very different when you print it out. The same idea goes with paint. By painting a sample – which you should also be priming – you can get the best idea of the actual color before you dive off the deep end and commit. If you are hesitant about painting a sample on your wall, you can always opt for a product like SureSwatch, that's a removable film.
Creates a Smooth Base
No matter where you are painting, you want your end result to be smooth and uniform, right? Primers protect and seal your wall and cover any stains and discoloration. This is especially important for new drywall or walls that previously had wallpaper. Creating a solid base layer will help your entire painting process, even making the finishing topcoat smoother.
How to Choose a Primer Paint
There seems to be an endless supply of different types of primer, so how do you choose one? Two major factors will determine what primer to use: where the paint is going (interior or exterior of the home), and what the paint is going on (drywall, wood, plaster, etc).
Interior vs. Exterior Primers
First thing first – is there really a difference between them? Absolutely, yes! Interior primers increase the paint's adhesion for a more evenly coated wall whereas exterior primer helps the paint withstand the seasons and prevents issues like mildew growth. Both will protect and seal the paint but will work in a different ways. They should not be applied interchangeably as interior and exterior primers are built for different materials. Drywall and bare wood trim will almost always use interior primers and exterior primers are typically reserved for masonry materials. Knowing what primer to use will make all the difference.
Types of Primer
It's important to know what material you are working with to match what kind of primer to use. Not all types of primers are built the same. When choosing a primer, there are three major types of primer: latex, shellac, and oil. They are each designed to be used on different types of surfaces and with specific paints. If you already have your paint picked out, you should match it with a type of primer that works with the paint material. If you fail to do so, you may end up damaging your paint and wall.
Latex-Based Primers
Latex is probably the most commonly used type of primer. This is the best type of primer for drywall as it is flexible, fast-drying, and good at covering up minor stains. It can also be used on softer woods (like pine) or on masonry surfaces. Plus, latex primers are water-soluble making cleaning up faster.
Choosing a latex primer will often result in a white or off-white color, which is a great starting point to make your color pop. The biggest thing to keep in mind with latex primers is to make your coat even. Much like regular paint, latex primer will appear lighter or darker depending on how thick it is.
Shellac-Based Primers
Shellac is the oldest and strongest type of primer. It's the best type of primer for sealing stains be it water damage, rust, or smoke (and yes it covers the smell too). It's also highly versatile so you can use it on wood, metal, drywall, plaster, and even plastic making it a great catch-all. The biggest downside in choosing this primer is that it is an interior-only primer but it can be paired with oil, latex, and water-based paints. Shellac paint also dries in less than an hour!
Be cautious when using shellac primers though, they produce a significant amount of VOC fumes relative to other primers. Having your area well ventilated is essential for your safety. Also, keep in mind that just because the paint will dry fast, doesn't mean the fumes will. Build-in plenty of time to allow the area to safely clear of any fumes.
Oil-Based Primers
Oil-based primers have a diverse lineup with both interior and exterior options. Oil-based primers are known for creating smooth results while preventing cracking and are the best type of primer when painting wooden surfaces. They can be used on molds, trimmings, wooden paneling on your house, or even a deck. They do an excellent job at covering previous dark stains and making your project a breeze.
Oil-based primers do hold some drawbacks though. They should only be used with oil-based paints, which are very thin and potent and do not work on masonry materials. They also take a long time to dry and are difficult to wash out of brushes and rollers. Pro tip- Buy disposable, one-use brushes and rollers when working with an oil-based primer.
Buying Primer
Now that you know what kind of primer to use, it comes time for the quest of actually buying the primer. There are dozens of brands and cost points to choose from. Some paints even come with primer built-in. If you are starting with a neutral-colored wall – white, cream, light tan, etc. – all-in-one paints will get the job done. If your surface has textures or has a bolder color, having additional types of primer is still a good idea. Nevertheless, you have to decide on a brand and a price point. Keep in mind when shopping, that one gallon of primer covers roughly 300 sq ft of surface.
Brands
The first question that might come to mind is "Should the primer be the same brand as the paint?" In short, no. Every paint brand will have its higher and lower quality products. Just because their paint was the best, won't always mean they also have the best type of primer. When choosing a primer, focus on matching the type of paint to the primer rather than the brand.
How to Choose A Primer at the Right Cost
In a perfect world, everyone would buy the highest quality product every time. But in reality, many DIYers don't have the budget for that. If you cannot opt for both paint and primer to be higher quality, then just go for one. A high-quality, more expensive primer will make a cheaper paint last longer, likewise, a more expensive paint might not require as strong of a primer. Something to also consider when choosing a primer is that the cost of primer is significantly cheaper than the cost of the paint. The average price of primer is $10-$30 per gallon whereas paint is $20-$100 per gallon.
How to Paint Primer
If you know how to paint your walls, you likely already know how to paint primer. To prime a room, you will need to prepare your space. That means you will need to:
Remove Furniture
Remove Outlet Covers
Apply Tape to the Molding
Place Drop Clothes
Cover Holes
Establish Ventilation.
Wash the Walls
Start by using a 2-3 inch brush and painting the outer edges of the room. From there, switch to a roller and begin painting the bulk of the wall. Use the roller in vertical "w" motion throughout the entire room, until it's totally covered. Usually, for primers, only a single coat is needed. Once done, allow time to dry, and then start on the color!
It's Time to Choose a Primer
Primer is a crucial aspect of every good paint job. It protects the wall, sets a foundation for painting, and yields bolder colors. Knowing what primer to use is a valuable part of your painting process. When choosing a primer, keep in mind what material you will be painting, where the paint will be (inside or outside), and what kind of paint will be atop the primer. Also, be sure to review how to paint primer before starting your project. Save yourself the headache on your next paint job, and start with primer.
About the Author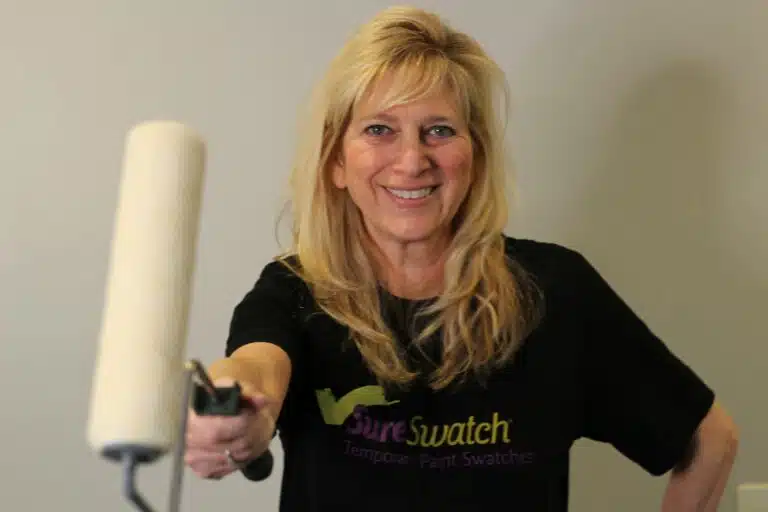 Always a problem solver, Jamie Peltz looks at common everyday problems from a different perspective. After 17 years of working for a corporation, Jamie found herself unemployed. She saw this as an opportunity to follow her dream to become an entrepreneur. Over the years she and the team have received multiple patents and been able to commercialize a few of their inventions.
Jamie is a graduate of The Ohio State University and received her MBA from John Carroll University. She also participated in the Goldman Sachs 10,000 Small Business Program and is currently Treasurer for NAWBO- Cleveland (National Association of Women Business Owners). In addition to her work, she enjoys hiking and spending time with her family.