You spent hours online on Pinterest searching and have finally been struck by DIY home design inspiration. You officially decide it's time to paint your home. Maybe you know the color you want but are not sure which hue. You go to the local paint store or hardware store and pick out a few too many paint chips and post them to your wall. You spend hours staring at them and still don't know how they will look in your space because, let's face it, they are too small and not even real paint. If these paint swatches are more stressful than help, read on.
What is a Paint Swatch?
So let's talk about what is a paint swatch. In short, paint swatches are the little color paper strips you find in the paint aisle. They are separated by brand. Some are square cards with a single color hue on them; others will have multiple shades of the same color. Either way, these swatches will demonstrate the color.
It's important to first understand that the interior paint you see on the shelves is all a base tone. This just means that they won't have any actual colorant in them. If you want the paint to have color in it, you have to stop by the paint service counter and get it mixed. That's why you see the colors in the swatches and not on the cans. The color of the base paint can alter the appearance of the final color. Each brand will call their paint bases something different, but typically your choices will likely be:
White
Medium
Accent/Deep/Clear
They will also have different finishes to them, like matte and glossy, and some may even have primer already built in them. If you want to learn which finish is best for your project, you can visit a paint store, like Sherwin Williams, for more information.
How to Use Paint Swatches
Paint swatches are a good first step for any paint project you may be undertaking. They are an easy way to start quickly eliminating colors. Take them home with you and put them on your wall to start to get an idea of what the colors will look like in your room. Another useful tip is to take the swatches with you as you shop for decor. Try to match the items with the swatches and vice versa. This will give your design a cohesive look.
How Stores Use Paint Swatches
Paint swatches are not only used so you can see the color but so the employee knows what color to mix. Each paint swatch will have an identification number of sorts on them to indicate to the employee what to input into the paint mixing machine. You need to match the paint swatch brand to the paint can brand to get accurate colors.
How to Use Paint Swatches
Once you have narrowed down your swatch selection, the next step is to get paint samples. Bring your desired swatches to the paint counter to get the samples. At this point in the process, you will now be required to actually buy some paint. Many customers will also begin buying painting supplies while they are at the paint place already. Some tools you may need are:
Paint Rollers
Paint Trays
Paint Brushes
Drop Cloth
Painter's Tape
You should also consider buying a small roller and tray or a foam brush that is perfect for painting paint samples.
You can avoid painting your actual wall and still test real paint colors using paint swatch stickers.  Peel and Stick Paint Samples like SureSwatch® are a great way to visualize both your primer and paint sample on the wall without actually having to paint it. With SuresSwatch®, you are actually painting the paint sample and then removing the adhesive backing and placing it on the wall. You can even paint multiples and put them on many walls.  Be sure to clean your wall before you begin painting and lay a cover to protect your floor. Give the sample time dry, and look at it in multiple lights. Turn on your lights as well as open blinds to let in exterior light to see the paint in a bright environment. Then turn them off and close the blinds to see the paint in the dark. This is a space you will be living in, so it's important to see the paint change in different lighting.
Paint Sample Mistakes
This should be a very helpful part of the process, but in actuality turns out to often be misleading. Most painters will not do this process correctly, leaving disappointment when the project is completed. It's crucial to know how to use paint samples. Three common mistakes are:
1. Forgetting the primer
Many individuals will prime the room but neglect to prime their samples. This will dramatically change the color of the final result. Primer makes the colors significantly bolder and can give the paint a different finish look.
2. Only use one coat of paint
Much like the issue with the primer, if your sample selection is only one coat of paint and the final product is two or more coats, you will notice a mismatch between the colors.
3. Don't use boards to test paint
Oftentimes the paint swatches are painted directly on the wall, but many will test the color on a whiteboard. This is done so that if the customer changes their mind, they aren't left with random paint on their wall. Painting on boards can be misleading to the final paint job. The discrepancies in the board color and textures from the wall will once again lead to the final paint color being altered. You are better off using a product like SureSwatch® to test paint without painting your walls.
Paint Swatches Used Beyond Painting
Additionally, the swatches can be used for more than just testing colors. A popular trend is to incorporate paint swatches art in your home. Some will have a variety of swatches on their wall and have guests sign their names on cards. Other designers have used swatches as a tool to create a perfect pop of color on their walls.
Start Your Next Paint Adventure with SureSwatch Peel and Stick Paint Swatches
Whether using paint swatches to make your paint ideas come to life or using them to broaden your creative horizon, they are always a good place to start. Painting your space can be a very fun and enjoyable experience. It is important to set yourself up for success, starting with utilizing paint swatches. Knowing how to use paint swatches makes your paint sampling process flow with ease.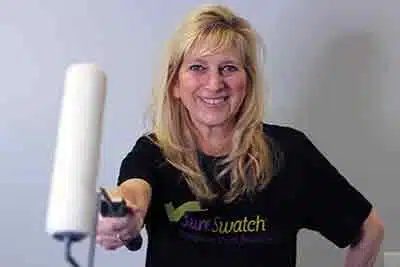 About the Author
Always a problem solver, Jamie Peltz looks at common everyday problems from a different perspective. After 17 years of working for a corporation, Jamie found herself unemployed. She saw this as an opportunity to follow her dream to become an entrepreneur. Over the years, she and the team have received multiple patents and been able to commercialize a few of their inventions.
Jamie is a graduate of The Ohio State University and received her MBA from John Carroll University. She also participated in the Goldman Sachs 10,000 Small Business Program and is currently Treasurer for NAWBO- Cleveland (National Association of Women Business Owners). In addition to her work, she enjoys hiking and spending time with her family.