Selling real estate can be a difficult task, especially if it's the house you live in. You're probably in the midst of decluttering and organizing once you decide you're ready to sell your home. Additionally, you might be trying to figure out what home improvement projects make the most sense to complete before you bring in potential buyers. Some projects (like putting in a brand-new kitchen) will look great, but they are big and costly undertakings. Many times, they don't provide a great return on your investment and will exceed your initial budget.
If you're looking for a home improvement project that won't require you to spend a lot of cash, but can still help improve your house's value, consider painting to sell your home.
Why Should You Paint to Sell Your House?
Painting is one of the most affordable ways to totally transform the space before selling your home. While a remodeled bathroom is definitely exciting, you can also make it feel fresh and updated by giving it a beautiful new paint job. It is cost effective and easy to do yourself (and can be fun). Here are a few more reasons that painting to sell your house makes sense.
1. Make a Good First Impression
Trying to sell your home often means facing some pretty stiff competition from other properties in your area. Painting to sell your house is an affordable DIY way to make your property stick out from the rest. It could be the difference between a buyer choosing your house over another in a similar style, age, and price. A freshly painted home increases appeal whether it's the photo a potential buyer sees in a listing or the inviting feeling they get when the buyer first sees the house in person.
From updating the exterior of your house (complete with a shiny new coat on your front door) to freshening up the interior, painting before you sell is one of the best ways to catch the attention of buyers. Remember, you'll never get a second chance to make that first impression.
2. Avoid Worries About Maintenance
When someone pulls up in front of your home, a 25-year-old paint job that's faded or chipping may give them a reason for pause. If the paint isn't in good condition, they may question if the rest of the home has been properly maintained.
They'll ask the same questions as they move through the interior of the house. If the paint is scuffed, dinged, or damaged, it could raise questions. "This is what we can see, and it doesn't look well-kept. Have they spent the time and money to properly take care of the things we can't see? Are we wasting time even looking at this home?" Spending a little time and money on painting can help eliminate questions about the rest of your home, increasing your selling potential.
3. Make Your Home More Affordable
Another reason painting to sell your home is an important part of the process is that it puts buyers in a better position. When they weigh the costs, not needing to paint allows the buyer to more comfortably afford your home, securing you the sale. If they know they're going to have to spend cash to take care of deferred maintenance items, such as repairs or a paint job, soon after they close they may pass up the offer, keeping their options open. When it comes to a paint job or items that need attention (leaky plumbing or a damaged roof, for example), it's best to take care of these things before you put your home on the market. Don't create outstanding issues for a buyer!
Paint Colors for Selling
Especially if you're getting ready to sell, it's normal to worry about making a mistake when choosing paint colors. So what colors should you choose? This question will have different answers based on if you are focused on the interior or exterior of your home.
Interior Colors
A good rule of thumb is to always go with neutral colors. Think greys, tans, and beiges. Soft colors are also a must! It's best to avoid any bold colors like full reds, yellows, and blues. Opt for softer shades and creamy undertones. Cool colors will give a lighter and brighter feeling, whereas warm colors may feel darker and cozier.
Ceiling
Your ceilings should always be lighter than your walls, be it selling your house or not. When in doubt, go white. It will make the room appear larger and more open. Experts suggest doing a paint ratio of 80% of your wall color and 20% white for the optimal ceiling color.
Walls
When painting your walls, you want to choose a color that is timeless and pleases a broad audience. Earth tone colors are the best for this. Some interior decorating experts suggest that light brown color tends to be a real people-pleaser to make sure you don't turn off any potential buyers.
While white paint may be the perfect choice on the ceiling, avoid having all the walls painted white; it's too sterile. Also it's best to avoid rooms featuring patterns and multiple paint colors. Not only will that make your painting faster, but it will give the space a much cleaner look. Save the accents for the decor! Have furniture that contrasts the paint, not the other way around.
Trim
Trim can be a very important accent to your space. Think of this like the frame around the picture. Trim can be around a window or door, along the floor board, crown molding, paneling, and more. Although the trim can be the same color as your walls, painting the trim in a different color can make the space appear larger. In terms of paint colors to sell your house, the best color is a clean white (or off white) for your trim. This will be the most pleasing and will compliment nearly every color.
Exterior Colors
New, clean exterior paint will considerably improve the curb appeal on your house. Some of the best colors for your home exterior are:
White/Off White
Navy
Light Gray (or gray tones of other colors)
Taupe
Beige
Slate
Cream
You may also want to consider checking in with any HOA you may have before purchasing your paint. Certain HOA's may require color approval prior to starting,
Paint Methods
You also don't need to get fancy with your palette. Use colors that work with the architecture already in place. Maybe your room features a stone fireplace or wooden beams, work around those. Buy colors that work with that! A classic tip is to pick a tone and follow it through the house. Remember that consistency is key. Planning for the entire house opposed to a single room will prevent a repaint in the future. If you are unable to paint all the rooms, focus on rooms that will see the most traffic. Make the living room and kitchen a priority.
Paint Brands
Paints are not all built the same. There is also a significant difference in interview vs exterior paint. Ensure you are not buying the wrong paint. It is also good to look at the brand of paint you use and, once again, keep it consistent. The same color from different brands may result in a mismatch. Some excellent brands to consider are:
You can purchase paint in home improvement stores or from speciality paint stores. ​​
Try Before You Buy
To test out colors before committing to purchasing gallons upon gallons of a certain tone, try them out on a SureSwatch first. It's a great way to confirm your color choice, whether you're trying to find the right hue for the kitchen or hoping to find complementary colors for the exterior of your home and the window frames. Painting to sell your home requires a bit of extra work that can make all the difference. It does take a bit more of a time and financial investment to paint before you sell, when your home sells more quickly at top dollar, it'll be well worth it.
About the Author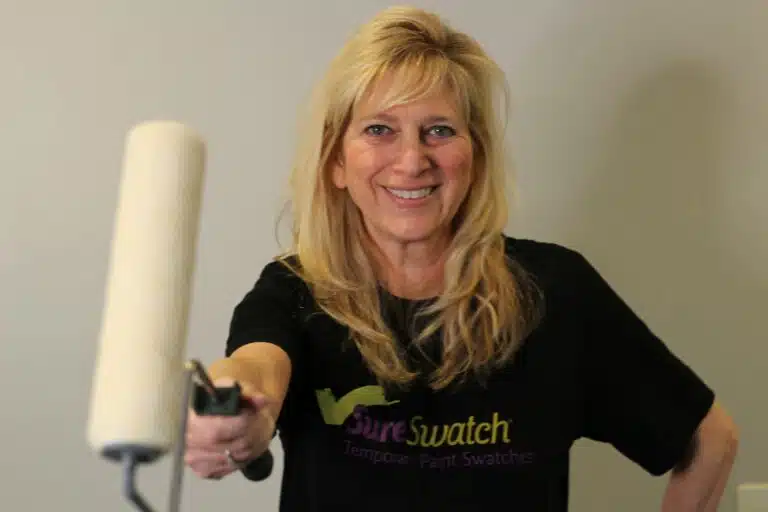 Always a problem solver, Jamie Peltz looks at common everyday problems from a different perspective. After 17 years of working for a corporation, Jamie found herself unemployed. She saw this as an opportunity to follow her dream to become an entrepreneur. Over the years she and the team have received multiple patents and been able to commercialize a few of their inventions.
Jamie is a graduate of The Ohio State University and received her MBA from John Carroll University. She also participated in the Goldman Sachs 10,000 Small Business Program and is currently Treasurer for NAWBO- Cleveland (National Association of Women Business Owners). In addition to her work, she enjoys hiking and spending time with her family.